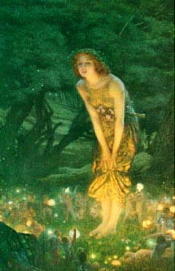 Tom Volk's Fungus of the Month for June 2005

Faery cups, in honor of a midsummer night's dream at the summer solstice

--by Rebecca Curland and Tom Volk

Please click TomVolkFungi.net for the rest of Tom Volk's pages on fungi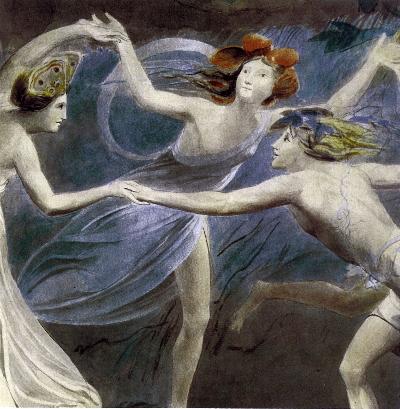 The 22nd of June is the summer solstice. In the northern heisphere, it is the shortest night of the year. It is a magical night, when the veil between the mundane world and the magical realm thins, and the little people emerge to celebrate the shortest night of the year. Some traditions believe that to prevent faery mischief, offerings of milk, honey, cakes, or sweet incense should be left out as offerings to appease the wee folk. If you are out roaming the woods on midsummer's eve, you might be lucky enough to stumble upon a group of faeries engaged in a celebration. You may even catch a glimpse of the faeries enjoying magical libations from faery cup fungi. We mere mortals have many spellings-- you may see fairys, faeries, faerys, or even fariis if you look closely enough.

Out of this wood do not desire to go:
Thou shalt remain here, whether thou wilt or no.
I am a spirit of no common rate;
The summer still doth tend upon my state;
And I do love thee: therefore, go with me;
I'll give thee fairies to attend on thee,
And they shall fetch thee jewels from the deep,
And sing while thou on pressed flowers dost sleep;
And I will purge thy mortal grossness so
That thou shalt like an airy spirit go.
--Titania, Queen of the faeries. Act 3, Scene I.
A Midsummer Night's Dream. William Shakespeare.
---
The cup fungi are ascomycetes that are grouped within the class Discomycetes, order Pezizales. These fungi produce fruiting structures called apothecia, bowl or cup shaped structures with open tops and a hymenial lining (rows of asci that contain the spores). The asci of the Pezizales are operculate; they have a hinged lid that opens to disperse the spores. Most of the Pezizales are saprophytic, and can be found growing in soil, leaf litter, or on decaying wood.
There are several species of cup fungi from which faeries might sip. Let's look at a few of them.
---