Tom Volk's Fungus of the Month for December 1999
This month's fungus is Amanita muscaria, the fly agaric.
Also be sure to look at some seasonal Christmas Fungi-- check out my popular and newly revamped
Fungi that are necessary for a merry Christmas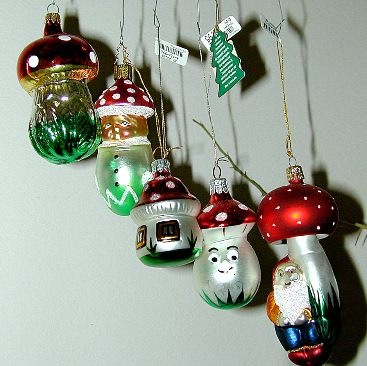 This month's fungus is an interesting one for many reasons. It is a very common mushroom in conifer areas all throughout the northern hemisphere. The color is highly variable, from bright red (A. muscaria var. muscaria), to orange to yellow (A. muscaria var. formosa) to white (A. muscaria var. alba), but there are always white patches on the cap-- remnants of the universal veil that covered the button stage. There seems to be a geographical distribution in North America, with the red form being found mostly in the west and deep south, the orange form in the midwest and east, the yellow form mostly in the east, and the white form reportedly scattered throughout the country. They can grow to be quite large, up to a foot high with caps as big as diner plates. It's called the fly agaric because in some regions little pieces of the mushroom are placed in milk to attract flies. The flies become inebriated and crash into walls and die.