Tom Volk's Fungus of the Month for November 1999
This month's fungus is Rozites caperata, the gypsy mushroom, reported to have antiviral activity.
Also be sure to look at some seasonal Thanksgiving fungi -- check out my popular and newly revamped
Fungi that must be overcome to have a traditional Thanksgiving dinner.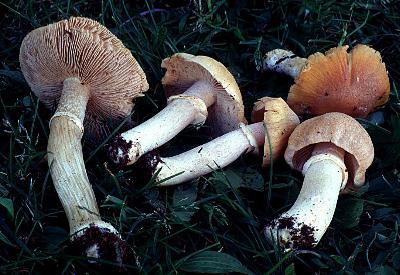 This month's fungus is a delicious edible mushroom known as the gypsy. (I haven't been able to figure out the origin of this name-- anyone know?-- maybe it's because they tend to be scattered all around a forest?). Rozites is named in honor of a European mycologist Ernst Roze, who worked in the early 1900's.