Tom Volk's Fungus of the Month for January 2000
This month's fungus is Histoplasma capsulatum, cause of histoplasmosis in humans and other animals.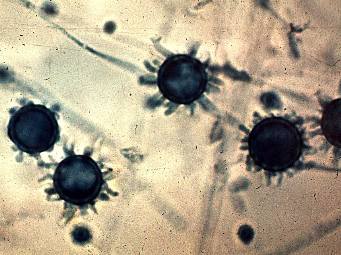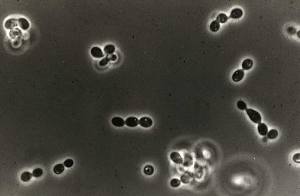 This month's fungus is a dimorphic pathogen that causes a disease called histoplasmosis, also known as Darling's disease, reticuloendotheliosis, reticuloendothelial cytomycosis, Ohio Valley disease, tingo, and Maria fever. It is actually a very common disease in the Ohio and lower Mississippi River Valleys, but rarely causes severe disease.
---
Histoplasma capsulatum is called a thermal dimorph because it has two forms. In nature at "room temperature" about 25° C it takes on a mycelial (filamentous) form, forming the macroconidia to the left. as well as smaller microconidia. At body temperature (37° C) it morphs into a yeast, shown to the right. The two forms are shown below, grown in separate test tubes at different temperatures. In culture below 35° it and on natural substrates it grows as a white to brownish mycelial fungus, with characteristic echinulate oval or pyriform macroconidia (8-16 um diameter) and microconidia (2-5 um diameter). When inhaled into the alveolar spaces it is primarily the microconidia that germinate and then transform into small budding yeasts 2-5 um diameter. Yeast cells are found in reticuloendothelial system. The fungus also grows as a yeast in culture at 37° C.
---