Elinoar's Cream of Desert Truffles Soup
Ingredient
9-10 medium sized fresh white desert truffles (
Tirmania nivea
)
1 small onion, chopped
1 cup very light beef stock
2 cups camel's milk
½ cup heavy cream
3 tablespoons butter
½ teaspoon white pepper
Salt to taste
Chopped parsley for decoration
light roux made with 2 tbsp butter cooked with 2 tbsp flour
Preparation
Gently scrub the truffles with a soft brush to remove sand.
Peel and chop roughly
Slice two truffles, boil in the milk, remove and set aside for decoration.
Sauté onion in the butter until the onion pieces are clear.
Add truffles and white pepper.
Cook for a few minutes, add beef stock and bring to low boil
Reduce heat and cook until juices reduce (10 minutes)
Add roux to hot milk, mixing quickly to dissolve.
Pour over the truffles, and cook on low heat, mixing constantly, for 2 minutes
Puree the mixture (optional), return to the pan and add the cream
Heat through but do not boil.
Add salt, taste and correct flavors Decorate with sliced truffle and parsley
Enjoy!

Elinoar's Pocket of Desert Truffles with Eggs
Ingredients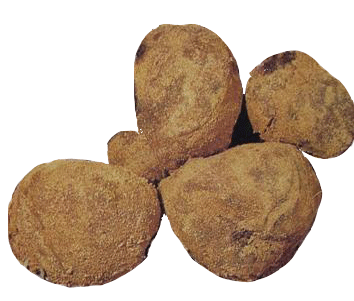 5 fresh large desert truffles
1 shallot, chopped finely
3 eggs, scrambled
4 tablespoon heavy cream
2 tablespoons butter
Salt and fresh black pepper to taste
Preparation
Wash the truffles carefully off all the sand.
Peal if necessary, but save the pealing (put them in a small jar with some rice and later steam the rice with them)
Slice the truffles
In a hot pan melt the butter, add the black pepper and the shallots and cook until translucent
Add the truffles and sauté for 4 minutes.
Scramble the eggs with the salt and heavy cream
Pout over the truffles, folding carefully.
Remove from the heat and serve immediately, or pack into a pita pocket.
Enjoy!
Please click here to return to Tom Volk's Fungus of the Month for January 2007 or click "back" on your browser.
Please click TomVolkFungi.net for the rest of Tom Volk's pages on fungi