The Nutritional Value of Desert Truffles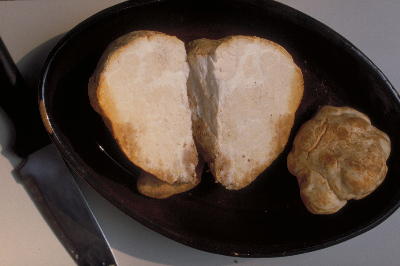 In reports published by the Food and Agriculture Organization (FAO) of the United Nations, the following was reported:

Tirmania nivea from Iraq is reported to have 14% protein and 21% fat.

Terfezia claveryi from Iraq is reported to have 8% protein and 17% fat.

Other studies show that in 20% dry matter, 20% - 27% are proteins, 3% - 8% are fat, 7% - 13% are fiber, and almost 60% are carbohydrates. In addition, desert truffles contain high levels of potassium and moderate amount of iron. It is nice to know that no toxic compounds (plant compounds, not environmental), have been detected.

For additional reading:


Ackerman LGF, PJ Van Wyk and LM du Plessis, 1975, S.A. Food review. pp. 145-146
Ahmed AA, MA Mohamed and MA Hami, 1981. Mushroom Science XI 833-842 Kagan-Zur, Varda, 1st international meeting on "Ecology, Physiology and Cultivation of Edible Mycorrhizal Mushrooms, 1998
Please click here to return to Tom Volk's Fungus of the Month for January 2007 or click "back" on your browser.
Please click TomVolkFungi.net for the rest of Tom Volk's pages on fungi